Picking most proper nail polish is struggling task for many, since there are several aspects to consider.
Nail shape
Skin tone
Personal style
Occasion
Below are some useful tips to buy nail lacquer colours for manicure perfection.
Skin tone
Nail polish needs to blend well with your complexion.
Specific shade or colour may blend well with your friend's complexion but will not define as well, on you.
Tips for skin tone
For fair skin tone look around for light shade colour. Avoid very dark colours but certainly try pastel colours, purple shades, red, orange, and peach.
Olive skin tone carries almost every colour except gold and rust coloured nail polish. Better try orange red, sky blue, pink, purple, and nudes.
On dark skin, darker shades pop out and look totally vibrant with the complexion. Avoid pale colours but try deep reds, Fuchsia, sheer cream & beige, dark berry with purplish tint, and intense cobalt shade.
Make up
Avoid matching nail polish and makeup, which makes you appear outdated.
Matchy-matchy is fine but needs to be done right.
Dark makeup with dark nail polish shade is fine.
Wearing same nail polish and lipstick shade is acceptable.
Season
Nail polish choice needs to complement the season.
In winter darker shades look elegant.
During spring pastels look pretty.
For summer bright neon shades are striking colour choices.
Neutrals and nudes are suggested for autumn.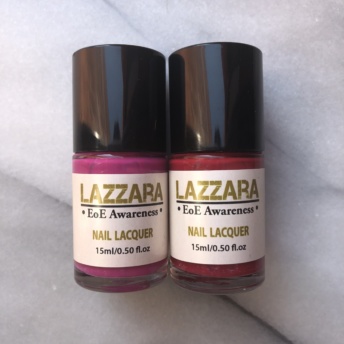 Occasion
What are your plans for the day? Will you just hang out at the mall?
If you are on a dinner date then daringly try gold, silver or bronze.
If it is a job interview or presentation then wear safe nuclear colours.
Even if it is the current trend, avoid using it if it does not fit your style.